Yahoo Message Archive Decoder reads Yahoo! Messenger archive files (.dat files) and presents them in a format that you can read.
Unlike the utility provided by Yahoo! Messenger, using this program you can decode them without connecting to the Internet as long as you have the *.dat files. Moreover, the message archive owner's password is not needed.
The software decodes normal conversation messages, private messages, conferences, and SMS/Mobile Messages to HTML or plain text, complete with time stamps, smileys and font formatting (typeface, bold, italic, underline, font size and colors). It supports Unicode text (Arabic, Chinese, Japanese, and all non-latin characters).
Normally, you must be logged in to Yahoo! Messenger (using your or someone's password) to view the Message Archive. However,
If you forgot your password, but something important is in the archive (telephone number, business contact, email address, etc.)
If you want to search some text deep hidden in a bunch of archive files.
If you want to spy other's conversation or SMS (your kids, your spouse, your employee, etc.)
If you cannot stand waiting the slow Yahoo! Messenger internal archive viewer
If you want to save or backup your conversations completely with font formatting, smilies, etc.
... you can let Yahoo Message Archive Decoder solve the problem!
Yahoo Message Archive Decoder decodes Yahoo! Messenger's Message Archive stored in your computer. It works even if you don't have the login password. If you are not connected to the Internet, you can still view the archives!
You can read other's Yahoo! Messenger chat archives, without any passwords. For example your spouse, children, lover, or anyone. To access them you have several choices. You can let them use your computer so that the chat log is stored, or just get the *.dat files (files used by Yahoo! Messenger to store messages) to your computer and read it!
Another use of the software is to find information in your past conversations. The Yahoo! Messenger archive viewer cannot be used to search them. Using Yahoo Message Archive Decoder, you can decode all archives you have and find the information easily.
The program supports decoding of private messages, conferences and SMS, complete with the font formatting, smileys, colors and complete date/time. Other features include password recovery, message archive options manager, advanced auto-detection, customizable output, and many more.
Note: Yahoo! Messenger version 11 no longer stores conversation in archive files on your computer. Instead, it stores them in Yahoo!'s servers. Hence, you will not be able to read existing conversations unless you have the log-in credentials to Yahoo!. Moreover, Yahoo Message Archive Decoder cannot be used to read the messages.
Decodes the message archive without logging in (offline mode and no passwords required)
Easy-to-use interface, no manuals needed for operations
Supports normal conversations, private messages, conferences and SMSes
Up to 20 times faster than the Yahoo! Messenger internal viewer
Ability to decode a single file, all files in a folder, following Yahoo! Messenger directory structure, even command-line interface is available.
Supports savable and customizable HTML formatted output, complete with time stamps, smileys and font formatting (typeface, bold, italic, underline, font size and colors) and plain text.
Unicode output, allows display of non-latin characters (e.g. Arabic, Chinese, Japanese, etc.)
Ability to change any user's message archiving options directly
Date range selection (to select specific files' date to decode) and modifiable time zone
Ability to set a password for accessing the program to prevent unauthorized use
Advanced auto-detection of usernames, folders, archiving options etc.
Forensics-friendly features such as complete date/time stamping, decoding of .hst files (old archive format) and corrupted file detection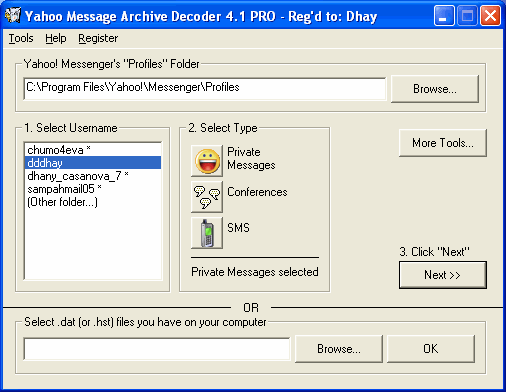 See more screenshots:
main window, username selection, archiving options, message archive
Get Yahoo Message Archive Decoder from our web site. The file size is approximately 420 KB.
The installation procedure is very simple and takes less than a minute. Just double-click on the downloaded file and follow the instructions. End-User License Agreement.
Please click here to go to the registration page. Your purchase will be processed instantly and you will be able to use the full version right after you complete your transaction. The online registration system fully uses strong encryption so your transaction security is not compromised.